MSc Dissertation Placement - Week 3 - To Sample or not to Sample
Posted on:

7 June 2016

By:

dom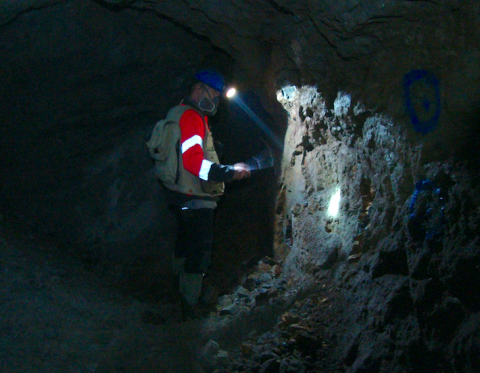 The third week at Rudnik began late after my return from a great weekend in Belgrade. We began with an investigation for unexplored vein mineralisation in a distant area of the exploration license.
Stream sediment sampling is a common technique for greenfields exploration, as it is a fast and inexpensive method which can direct further exploration efforts. Ideally a sediment sample is taken and sieved for a particle size to assure representativeness. The underlying assumption is that the eroded material originates from a mineralised structure further upstream and causes a detectable anomaly in the geochemical assay of the taken sediment sample. More information about the location of the anomalous mineralisation can be gained by testing multiple spots upstream. As soon as the detected anomaly dissipates, the mineral anomaly was passed on the water catchment for the stream.
Later during the week, we tested the practice of sampling methods in the Srednji Šturac exploration adit. Geochemical assays are forming the basis for many decisions in mining operations. The confidence in the geochemical sample support is strongly correlated with the correct sampling method. However, a 'perfectly' representative sampling would involve the analysis of a large amount of material. This would be neither practical nor economic. A suitable sampling technique is usually chosen depending on the expected geological and grade properties as well as the geomechanical parameters of the rock. Further, practical and cost aspects, such as the time and budget available for sampling and logging are influencing the decision.
Whilst those practical aspects are often determining factors, a more closely spaced geochemical and geological investigation over a limited area can improve the confidence in the sample support of existing datasets (for the same mineralisation style), by describing its grade, spatial and geological variability.
It has been a very interesting week, and with more research and preparations in place I am looking forward to carrying out my sampling and mapping exercises in the next weeks.