Olovo
The Olovo concession was acquired by Mineco in 2012 and received in 2018 the first new Exploitation License to be issued in Bosnia & Herzegovina in over thirty years. The target production is 120,000 tpa of cerussite lead ore. The mine currently employs 120 personnel and is one of the biggest employers in the region.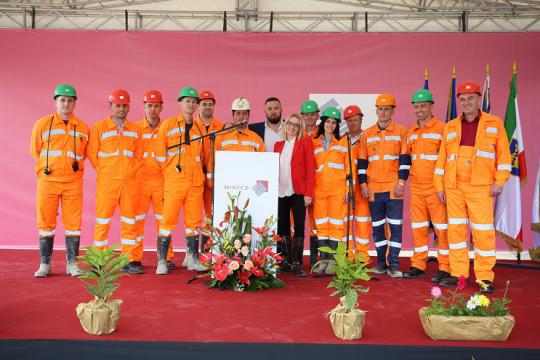 History:
The project is located 5 kilometres from the town of 'Olovo', which is the local word for lead. The mineralisation in the area has been known since Saxon times, however the first commercial attempt at extraction, which began in the late 1980s, was halted in 1992. The project is divided by a deep karst valley of the Biostica river, which also served as the front-line during the war for several years. Most of the mine's infrastructure was destroyed during the conflict, but the underground development drives remained intact. Mineco acquired the concession in 2012 and conducted intensive exploration works over four years, whilst simultaneously re-developing infrastructure and preparing the project for production.
Technical:
The Olovo deposit is a high-grade vein type mineralisation of over 25 separates structures, which strike approximately E-W across the Biostica valley. The cerussite ore is the product of oxidation of primary sulphide mineralisation, which still can be found in traces in some parts of the deposit. The vein mineralisation is up to 15m thick and extends over almost two kilometres horizontally. After extraction, the ore will be processed in a gravity separation plant, which requires no chemicals to separate the minerals. The plant has been successfully commissioned in autumn 2019 and is currently ramping up to target production levels.
Corporate Responsibility:
The Olovo project is in an area that has struggled with low employment and economic hardship in the years after the war. The current main employers in the area is a textile factory and the Olovo mine. As the project is the first mine to open in Bosnia in over 30 years, its opening has gained national attention, widely seen as a vote of confidence in the country and the economic opportunity.