Summer Placement 2015 - Week 1 First Impressions
Posted on:

7 July 2015

By:

dom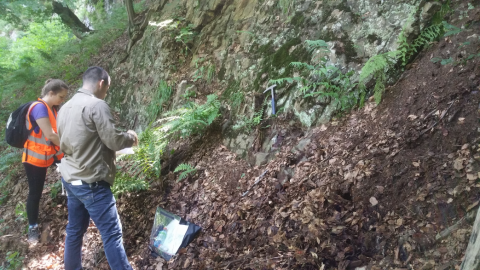 My name is Maddy Tracy and I am here, in Serbia, with fellow student Gethin Richards (more from him next week) for 6 weeks on placement. We both study exploration and resource Geology at Cardiff University and are on placement as part of our degree and also to gain experience, which is important for future employment.
We arrived in Sarajevo Airport on Monday the 15th of June and spent the next day traveling to Gorazde to have a quick look round with the mining inspector and then hopped across the boarder into Serbia and travelled to Rudnik Rudnik where we have been ever since. We met some lovely people on the first day, making us feel very welcome and, even though we spent most of our time travelling, it gave us a chance to take in the stunning scenery of the Bosnian and Serbian country sides.
Upon arriving at Rudnik we met some more great people who were happy to answer any questions we had about the maps and data up on the walls and informed us of the work we would be getting up to in the following days.
So the next day we were up nice and early and started on core logging and re-orientating the cores that had been drilled. This was a new experience for both of us so we learnt a lot in just this first day and continued to do so for the rest of the week. We helped interpret the geology of the cores, pick out and measure structures in the cores and chose particular parts of the core to be sent off for sampling. To end the week we were given a tour around the Rudnik license area which was interesting to see; we went to the open pit and also had a look at previous, current and post drilling pads. So we got to check out the equipment that is used and also see the land requirements to set up a drill pad.
So, the people are great, the food is delicious, Serbia is beautiful and the work is interesting! We've been working on our Serbian language this week, (and can now just about pronounce everyone's names correctly!), So … Hvala Serbia, looking forward to the following weeks.
Maddy Tracy