Summer placement 2016 Cardiff University- Week 1, Getting to Know Everyone.
Posted on:

12 July 2016

By:

dom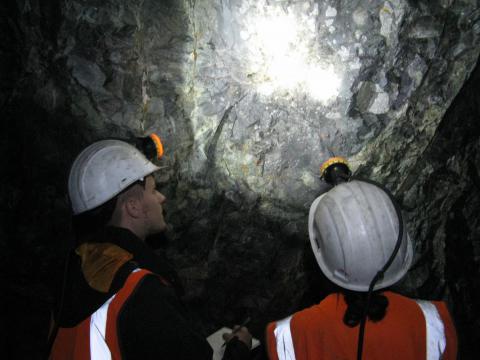 Hello, my name is Alice O'Neill and I am here from Cardiff University along with Jack Welch. We are both studying Exploration and Resource Geology and are about to embark on our final year, but first, our 6 week placement with Mineco.
We arrived in Belgrade on the 29th of June and were met at the airport from which we were taken to Rudnik. Here we were made to feel very welcome and not only greeted by friendly faces but also food. Once rested and fed we were taken around the mine to meet the safety manager and familiarise ourselves with the lithologies and the workings of the mine (something we hadn't experienced before.)
In the following days we travelled to the Mataljka area where we took samples from the stream that were sent to be analysed for mineralisation. Here we got a real feeling for what the geologists were really looking for in the Rudnik area. We were also shown old working on the site that date back from Roman and medieval times. This is something that really interested us both.
Later on in the week we started core logging, this was something new (for me at least) and something that was really interesting to learn about. We analysed a core hole that we had been anticipating for a couple of days. Here we looked at core recovery, mineralisation and contacts.
We have both come to the conclusion that field work and experience is invaluable and something we look forward to building on in the following weeks.
Alice O'Neill