Summer Placement - Week 2 Rudnik, Serbia
Posted on:

7 July 2015

By:

dom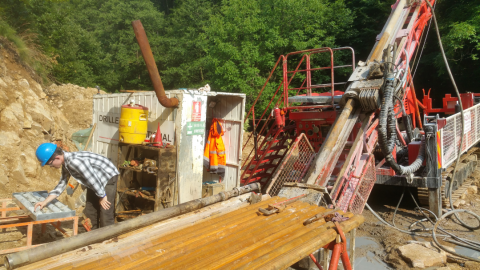 At the beginning of the second week, we prepared ourselves for the field. Magnifying glass, rock hammer and compass in hand we undertook 4 days of mapping within an unexplored area located within the license of Rudnik Rudnik. The countryside was breath-taking. As we worked challenging ourselves in the field we began to interpret the geology and trade theories and ideas with the project geologists. The overall aim was to map the geology and structures paying careful attention to the mineralogy, in the hope of identifying possible polymetalic indicators.
Towards the end of the week our attention turned back to core logging. With two rigs running at full capacity it was our job to log the drill cores. Having begun the first week logging we were quickly finding our feet, writing full descriptions of the geology while taking time to admire the magnificent mineralisation. Orientating the cores where possible to identify and measure important structures that can be linked to mineralisation in the area. The work was fast paced but both of us were gaining a vast knowledge in a crucial discipline within the industry.
Arriving home, we had become accustomed to a prepared meal ready and waiting for us. Kicking back and relaxing with our fellow colleagues, joking and laughing. Often work continued at home, importantly digitising the day's work, while helping out our colleges where we could. I quickly found myself distracted, spending most of the evenings on ArcGIS designing maps that could benefit the Company. Developing digital elevation models in numerous ways including the creation of a comprehensive watershed delineation based around the local area. It was great sharing each other's work at the end of each day. The sun setting, a beer or two surrounded with great company. "Zhee-ve-lee" – cheers!
Gethin Richards