FOREIGN INVESTMENT AWARD
13 Dec 2018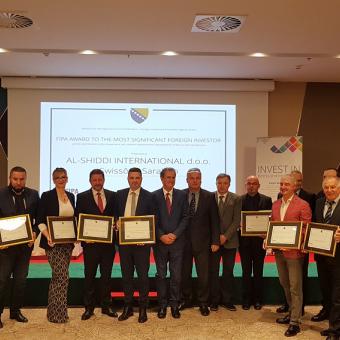 The Foreign Investment Promotion Agency of BiH (FIPA) held its annual awards ceremony for the "Most Significant Foreign Investors in BiH in 2018" on December 13 in the Swissotel, Sarajevo.
For ten years FIPA has been running this event in acknowledgement of the importance of foreign investment; both its direct contribution to the economic development of Bosnia and Herzegovina (BiH) and employment of its citizens.
In the last two years, BiH experienced an increase in foreign investments. In 2017 over 777 million BAM invested, 40% more than in 2016. This trend continued in 2018, with 452 million BAM invested in the first half of the year. The trend of the foreign investment growth continued in 2018, and for the first 6 months, foreign investments amounted to 452 million BAM.
We are absolutely delighted that Mineco has been recognised as one of the 12 Most Significant Foreign Investors. This award not only credits the inward investment into BiH but also acknowledges Mineco's strong commitment to best international practise, environmental protection and the safety & continuous education of our workforce. With over 700 employees across our mining and hydro-power projects, Mineco is the United Kingdom's second largest investor in the country and we were proud that His Excellency Mr Matthew Field, the British Ambassador, attended the ceremony.