IMPACT Workshop in Bosnia
19 May 2017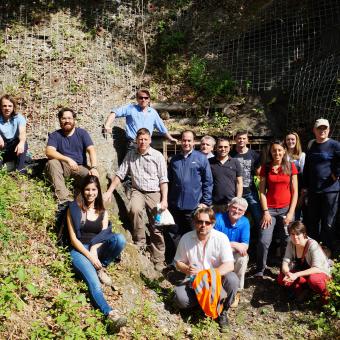 Between the 15th and 18th of May, Mineco hosted a one-week workshop session in Bosnia for over 30 participants of the Horizon 2020 IMP@CT research consortium. The objective of the workshop was to introduce the consortium to a real life small scale mining project like Mineco's Olovo project, which is also planned to be used as a case study site later on in the programme. Intensive workshop sessions, focussing on the complex geology, mining technology, mineral processing, environmental and social aspects of small scale mining were held throughout the week, promoting a productive discussion between the ten industrial and academic partners as well as local experts and community representatives.

On Wednesday the consortium was invited to a reception at the residence of the British Ambassador to Bosnia, HMA Edward Fergusson. In order to communicate the aims of the IMP@CT project at the reception, the consortium also met government officials of the Federation of Bosnia and Republika Srpska, as well as the EU Ambassador to Bosnia and Herzegovina, Mr. Lars-Gunnar Wigemark.

It was a very successful week for the IMP@CT consortium and Mineco, and substantial advance was made on all fronts of the project. Mineco would like to thank all participants and guests for a great week in Bosnia.