Sase Mine Marks World Environment Day
06 Jun 2015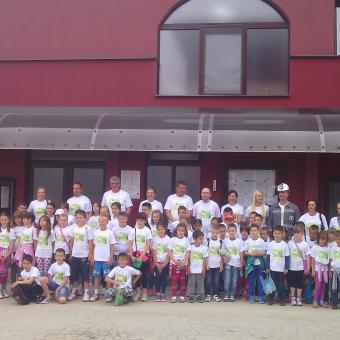 Gross, Mineco's subsidiary company that operates the Sase mine in Srebenica, celebrated the United Nations' World Environment Day for the seventh consecutive year on the 5th June. This year the mine invited fifth grade pupils from three local schools (Bratunac, Skelane and Srebenica) to join the for the day. The children took part in a range of interactive educational workshops, visited the mine's facilities and then joined the mine rehabilitation programme by planting seedlings on the closed tailings facility.
This is an excellent example of our Corporate Responsibility principles being put into practise by engaging the communities within which we operate directly in the mine's day to day operations.
"World Environment Day is the United Nations' principal vehicle for encouraging worldwide awareness and action for the environment. Over the years it has grown to be a broad, global platform for public outreach that is widely celebrated by stakeholders in over 100 countries. It also serves as the 'people's day' for doing something positive for the environment, galvanising indivdual actions into a collective power that generates an exponential positive impact on the planet"
More information can be found on the Unted Nations's website - World Environment Day