Srebrenica 2015 Development Conference
11 Nov 2015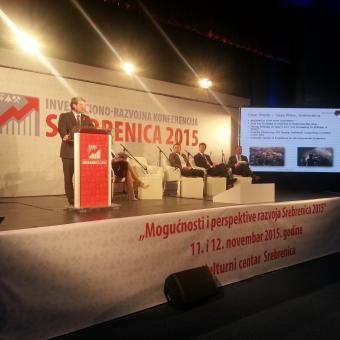 Mineco's Operations Director, Dominic Roberts, was accompanied by the General Manager and Technical Director of Gross Mine at the Srebrencia 2015 Investment and Development Conference held on Wednesday 11th November. Mineco, as the largest employer in the Municipality of Srebrenica, was invited to give a keynote presentation on their investment experience. Joining other successful international investors, Dominic presented both positive and negative experiences and offered a number of recommendations to better facilitate future foreign direct investment. The conference was very well attended with, amongst others, President Dodik and Prime Minister Cvijanović of Republika Srspka, Denis Zvizdić Chairman of the Council of Ministers of Bosnia & Herzegovina and Prime Minister Vučić of Serbia representing the regional governments. From the international community a number of European Ambassadors were present, including Ambassador Ferguson of the United Kingdom, who endorsed Mineco as one of the most important British investors in the country.
Gross Mine was acquired in 2005 and following an extensive programme of repair and modernisation now employees 530 people and processes 300,000 tonnes of lean & zinc ore annually.
Click here to view Gross mine's website.